A MESSAGE FROM OUR EXECUTIVE DIRECTOR,
MARINA BERNHEIMER
As we transition into the Fall season, our thoughts at Child Advocates turn to our largest annual fundraising event, the pop-up Holiday See's Candy store. Traditionally, the store opens in November and runs until Christmas in a storefront in the Fowler Center. Hundreds of volunteers generously donate their time to staff the store every day for nearly two months.
This year, the See's store, like so many other things, will look different due to Covid-19. The staff and board members of Child Advocates decided that the unknowns about the trajectory of the virus this winter meant that it was unwise to open a retail business and to ask hundreds of volunteers to spend time staffing the small indoor space.
In place of the local storefront, we are excited to announce that we opened an online See's Candy Store this year. Yes, you can browse and buy See's chocolate from the comfort of your own home. You can either have it shipped to yourself or to anyone you choose as a gift or stocking stuffer. There's no easier or more convenient way to shop for See's and your online purchase from our shop will help us sustain our work. You get delicious chocolate, and we get funds to continue our work. Total win-win.
ONLINE ONLY FOR 2020...CHILD ADVOCATES SEE'S STORE
OPEN NOW!
Online store open October 16th through December 4th.

We have the holiday and year round favorites See's is famous for, like boxed chocolates, truffles, nuts and chews and lollipops. Online ordering is easy. You can ship to your door, or whomever's door you choose! Visit us at www.caofnc.org or click below and
We will miss the laughter, friendship, camaraderie, the opportunity to meet new people and your smiling faces at the store front this year. We thank you for your continued support!
Happy Holidays from all of us at Child Advocates!
CHILD SAFETY PUPPETEERS
MAKE THEIR SCREEN DEBUT
The Child Safety Puppeteers provide critical abuse prevention education to thousands of young children each year in hundreds of classrooms countywide. The program recruits and trains high school students to perform developmentally-appropriate puppet shows that teach young children about safe touches, child abuse, and how to seek help from a safe adult if they are experiencing abuse.
Linda Collins, Program Manager for the Child Safety Puppeteer Program and her team of high school puppeteers performed 181 puppet shows in our local schools for more than 3,500 young students last year. This year, we are unable to provide the educational puppet shows in classrooms due to the pandemic. In order to ensure that local children continue to receive this critical information, we have secured funds from the Del E Webb Foundation to create high quality, professional videos of the puppet shows for children to watch while they are distance learning.
northyuke.com
Meet Lou Douros, Producer, Writer and Creator with "North Yuke" a documentary film company that will be creating the videos for our puppeteer program. Lou is not new to Child Advocates. He has been creating videos for our programs that describe our purpose and highlight our goals for years. His ongoing commitment and compassion is always reflected in the compelling videos that depict our programs so well.
"A gesture can reach a wound
that only compassion can heal."
Steve Maraboli
An act of kindness in honor of his birthday.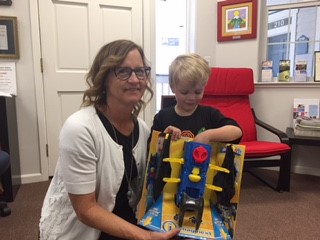 In 2017, Cooper and his mom came into our CASA office to bring a toy for a child in foster care. As Cooper celebrated his fourth birthday, his mom wanted him to think of others who might not have as much on their birthday. Cooper understood this and told us how much another child would like this toy and he was happy to give this to them.
A few weeks ago, Cooper and his grandmother Joanne Hill returned to our CASA office with a toy for another child's birthday. Cooper is now turning 7 and once again, he wanted to honor his own birthday by providing a new toy for another child in need. Thank you for your kindness and generosity, Cooper!
GIVING TUESDAY
On December 1st, we invite you to come together for 24 hours of unprecedented giving to support the vital services Child Advocates of Nevada County provides for local children and families.
Most people know about Black Friday and Cyber Monday. Giving Tuesday, the Tuesday following Thanksgiving, kicks off the holiday giving season with a powerful grassroots philanthropic movement that has inspired like-minded people to donate on the same day, therefore maximizing the impact of their giving.
With the holiday season just around the corner, we invite you to kick it off with us on the global day of giving, Giving Tuesday. Together, we can support the programs that provide advocacy, education, and prevention services to assure that all children grow up free from abuse and neglect. We depend on the generosity of our community to sustain our programs.
Tell your friends, like us on Facebook and please, mark your calendars and make your online donation on December 1, 2019 at www.caofnc.org and thank you for your support!
"Never doubt that a small group of thoughtful people could change the world. Indeed, it's the only thing that ever has…"
Margaret Mead
Our Contact Information
*{{Organization Name}}*
*{{Organization Address}}*
*{{Organization Phone}}*
*{{Organization Website}}*
*{{Unsubscribe}}*